Calyx Zobo
Although there are many Zobo recipes, ours is different because it is inspired by two of the best things in the world – a mother's love and Christmas.

Fiery
In tribute to our origin, we bring you the wholesome taste of our fiery drink.

Hot
Calyx Zobo is guaranteed to hit you with a natural 'wow wee' taste.

Spicy
Born on the streets of Nigeria where drinking hibiscus brewed with fruit and spices is a daily ritual.
Our Zobolicious Story
In tribute to our origin, we bring you the wholesome taste of our fiery drink with a unique branding that captures the vibrant colours of the African continent.
Did you also know that the recipe for the refreshing Calyx Zobo was inspired by our founder's West African mum? She would affectionately serve her family home made Zobo drinks on special occasions including Christmas. Today, the recipe which has been perfected over six years has become a blend of nourishing goodness for everyone to savour.
"Our recipe is centered on the wellbeing of our consumers. Calyx Zobo harnesses the natural health benefits of flower, fruits and spices for your wellbeing."
– Raphael Ogunrinde, Founder & CEO of Calyx Drinks
Our flower-based drink is made from Ginger, Cloves, Juniper berries and the traditional red Hibiscus Sabdariffa known as Zobo in Nigeria, Soobolo in Ghana, Karkade in Saudi Arabia, Sorrel in the Caribbean and Flo de Jamaica in America.
Calyx Zobo also contains other warming spices and natural ingredients sourced from six countries in two continents and has been nourishing a diverse group of consumers since 2019.
The traditional African hot and spicy soft drink is packed with healthy doses of antioxidants, vitamins and phytonutrients.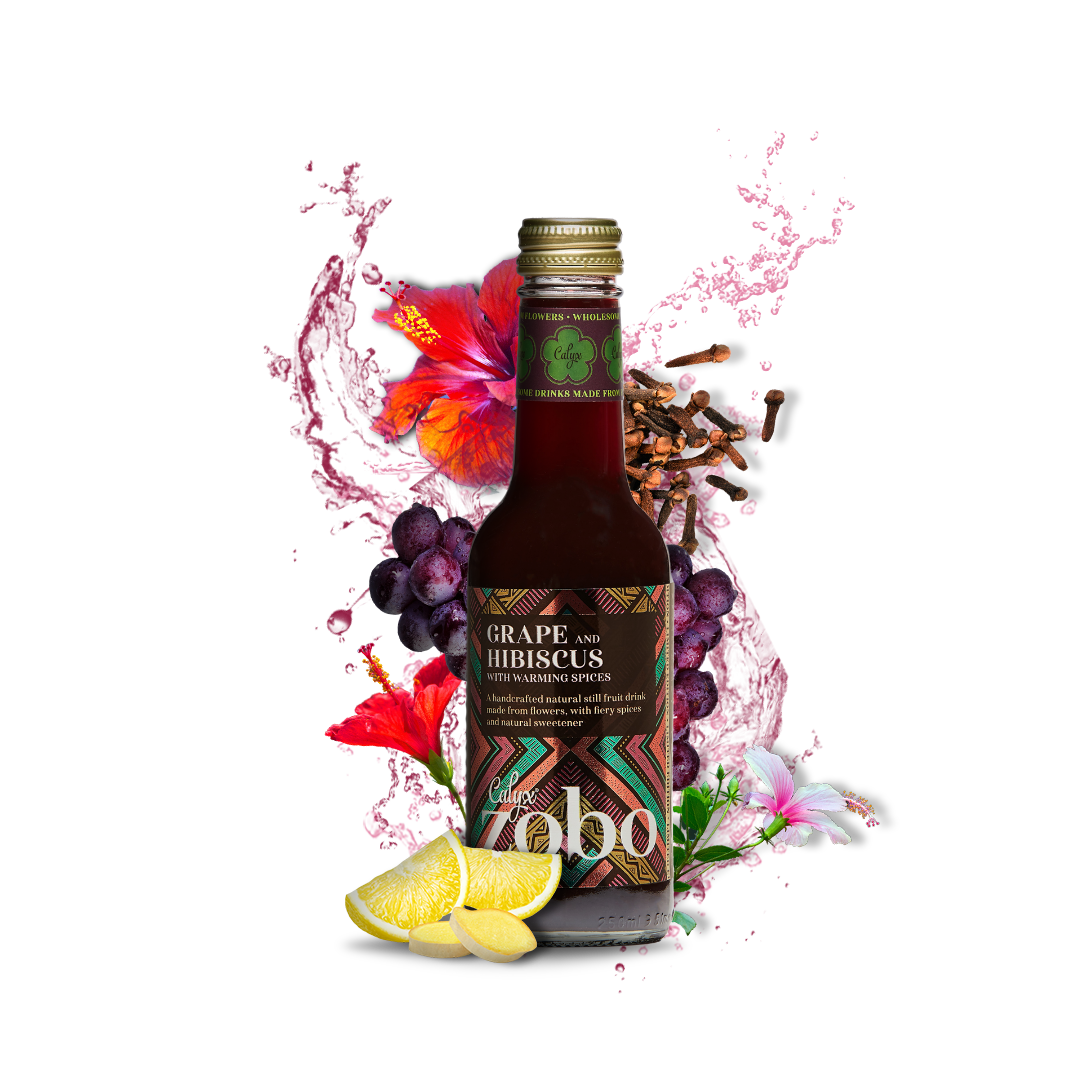 Sharing the vibrant African taste with the world
This is our Calyx Zobo Original which is an extremely nutritious, natural, savoury and enjoyable non-alcoholic drink. Our authentic West African fiery fruit and flower fuelled recipe is made from organic flowers, fruits and spices in a gentle craft-brewing process to awaken your taste buds.
Extracted from nature, bottled with love
This is our mellow Calyx Zobo which is smooth, soft and fruity. Our flower-based drink is low in calories, no added sugar, high in goodness and the perfect alternative to alcohol for people who want to stay healthy and feel amazing.